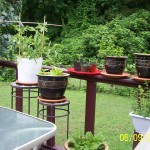 The most common excuse for not eating organic is the cost. My husband says, "It's cheaper than medicine." We eat organic to avoid the pesticides and GMO's (genetically modified foods) and to get the most nutrition from the food we consume.
Since all the good health food stores take over an hour of travel time to get to from our house, I have found some convenience in my own neighborhood. Did you know that Aldi carries a small selection of organic vegetables and fruits at cheap prices? Plus, most of their produce is grown locally and they have great weekly deals on fresh produce. Select Krogers have an organic section with some organic fruits and vegetables (fresh and frozen). Kroger also carries a new affordable organic line called, Simple Truth Organic. Cold Life Organics will deliver locally to your door (in Atlanta metro area) and Swanson Vitamins (online) and Amazon.com also carry some organic foods at reasonable prices…..and you can always grow your own.  Refer to links in the sidebar to find out more about some of these resources.
p.s.  Above is a photo of my Spring, patio garden where I grow herbs and vegetables.