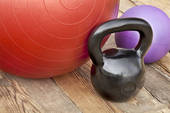 Today, while I was exercising at my neighborhood recreational facility, the peace of God rested upon me.  As I walked the padded, indoor track, in air conditioned comfort, the banners overhead inspired me.  One of them said, "For I know the plans I have for you; plans to prosper you and not to harm you; plans to give you hope and a future."  There were other scriptures too, but Jeremiah  29:11 really ministered to my soul today, so I repeated it to myself over and over as I walked the track.  I didn't count the laps or watch the clock;  I just listened to the praise music playing softly through unseen speakers and meditated on the word of God.  After my muscles were good and warm, I got an exercise mat and placed it in the center of the floor.  In between sets of push-ups, sit-ups and stretches, I heard an attendant giving tours of the facility.  After about the third tour, I realized he was telling the same story over and over again, varying it slightly each time.  It was about how he and his wife had joined the church together and what a difference it had made in his life.  After my floor workout, I saw the man finishing up a tour and stopped him.  "Sir," I said, "I just wanted you to know how much the praise music, this environment and your testimonies have blessed me today."  He went on to share his testimony with me. It was an encouragement to me.  In return, I shared a testimony with him that encouraged him.  He told me that I made his day and he surely made mine.
You see, the recreational facility that I choose for my physical fitness workout is an outreach ministry of The First Baptist Church of Jonesboro in Georgia.  They don't charge a membership fee to use the exercise facility, and it has everything you need to get a complete workout.  The facility is clean and well maintained with security cameras throughout.  In addition to the two full-sized walking/jogging tracks that circle the state of the art basketball courts; there is a cardio room, weight training room and game room.  Throughout the year they offer various aerobics classes, sports camps for the kids, basketball leagues for adults and children, adult softball leagues and wellness seminars.
If you're like me, always looking for the Christian alternative, this is it for the daily workout.  They are, however closed on weekends.  For more information about the ROC, visit www.fbcjonesboro.com or call 770-478-6710.  Also, check out their online magazine, The Light, for upcoming events and activities.