PowerMoves Kids is the FIRST classroom program to combine Character Education and Fitness. It was created by Laurette Willis, founder of PraiseMoves.
"PMK" is helping children stay focused and on-task, while having fun moving their bodies to these easy-to-follow stretching postures.
PowerMoves Kids is a Character Education Curriculum for PK-8th grades – with Health, Nutrition & Fitness information, too!
Designed for Classroom Teachers, educators in all settings are finding PMK helpful for transitions between subjects as well as for group focus and discipline. While NO physical education training is necessary, PE teachers are using PowerMoves Kids postures as an alternative to yoga, and the PMK Curriculum as a way to add Character Education to their PE class.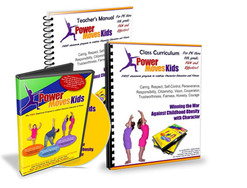 By reciting a character-building quote with each gentle stretch, children are being taught character education at the same time—exercising their minds and emotions while exercising their bodies—and teachers are seeing the difference it's making in their PK-8th grade students!
PMK postures become mnemonic devices to help anchor in empowering life principles such as respect, trustworthiness, honesty and self-control.
As an added bonus, since PowerMoves Kids is fun and the postures, quotes and affirmations fit neatly into the school day, children are learning to take healthy stretch breaks for energy (instead of junk food breaks!).
SINGLE USER LICENSE – This License Agreement permits you to use one (1) copy of PMK Program materials for one teacher or class. Single Use shall be defined as ONE PMK Teacher's Manual, One PMK 48-lesson Mix n' Match Curriculum for PK-8th grades and ONE PMK Instructional DVD used by ONE teacher. 

Single User PowerMoves Kids 3-piece Program: $99.95  
(plus $11.95 s/h. Outside of U.S. & Canada orders Contact us for postage) 
Teacher's Manual, Teacher's Curriculum and Instructional DVD
UNLIMITED USER SITE LICENSE
For those who want PowerMoves Kids Character Education/Fitness Program 
in many classrooms (or every classroom at your school)
,
we can offer PMK to your school for

one-tenth the price

 of other Character Education Programs!
UNLIMITED USER SITE LICENSE
 – 
This License Agreement permits an educational institution to use one (1) copy of the PMK program for as many  teachers or classrooms as desired (teachers and/or classrooms must be housed at a single educational institution address). 
The Unlimited Site User License consists of one hard copy each of the PMK Teacher's Manual and PMK 48 Lesson Mix n' Match Curriculum for PK-8th grades, plus one CD document of the Manual and Curriculum which may be duplicated Unlimited times, or downloaded via your schools Intranet. The Unlimited License includes as many DVD copies of the Instructional DVD as needed (up to a maximum of 25). 
The total number of users is Unlimited at ONE educational site.
Unlimited User Site License PowerMoves Kids 

3-piece Program

: $450.00
(plus s/h.  Out of U.S. & Canada orders 
Contact
 us for postage)
Call 404-407-0930 for a presentation or to purchase.