All testimonies in this book are related to things the Lord Jesus has spoken directly to Pastor Hatcher, either audibly, through dreams or visions, or through His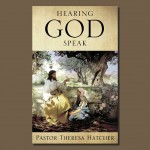 Word. If you have ever doubted whether God still speaks to His people today, as He did to the prophets of old, in this Book, you will witness many testimonies, revealing that the Lord still speaks. You will experience how the Lord has shown His love for children, as He saved them from the hands of death. Witness how the Lord used Pastor Hatcher to help people be brought out of the Power of Darkness, into the marvelous light of Jesus Christ. Climb the rugged hills of Sierra Leone, West Africa, with Pastor Hatcher as she goes to intercede for a dying woman's soul. Read how the Lord delivered Pastor Hatcher, at age seventeen, from would-be rapists. You will also read true stories of how the Lord's power overcame the power of witchcraft.
This Book, nor any other Book, will ever take the place of the Holy Bible, but it is a result of knowing God through His Holy Word.

….another example of the power of the testimony.
For more information about Pastor Hatcher, the book and her ministry, visit her website at Hearing God Speak.