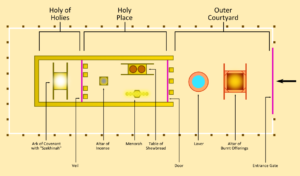 The Outer Court is where we make confession (sacrifices), cleanse and purify ourselves in preparation for entering the Holy Place to minister to the Lord. 
James 4 (below) paints a picture of what true repentance looks like.
Draw nigh to God, and he will draw nigh to you. Cleanse your hands, ye sinners; and purify your hearts, ye double minded. Be afflicted, and mourn, and weep: let your laughter be turned to mourning, and your joy to heaviness. Humble yourselves in the sight of the Lord, and he shall lift you up.  James 4:8-10 KJV
We need to make the decision to follow God. 
For let not that man think that he shall receive any thing of the Lord. A double minded man is unstable in all his ways.  (James 1:7-8 KJV)
In order to be cleansed, we need to be honest with ourselves about our sin. 
 If we say that we have no sin, we deceive ourselves, and the truth is not in us. If we confess our sins, He is faithful and just to forgive us our sins and to cleanse us from all unrighteousness. If we say that we have not sinned, we make Him a liar, and His word is not in us. 1 John 1:8-10
INSTRUCTIONS:
Use the Diagnosis Sheet to examine your heart.  Examine your life.  Ask God to search your heart; to remove any wickedness that may be there. Confess your sins. Allow God to heal you and forgive your sins. Ask the Lord to help you overcome any stumbling blocks in your life that are preventing you from living a holy life that is pleasing to Him.
JOURNAL YOUR PROGRESS:
It can be helpful to write down scriptures and verses that help you stay focused on your goals.  Other reasons you may want to use a journal are to: Write letters to God * document success * Write down revelations you receive through Bible Study * Write prayers the build yourself up in the Lord * Write poems and songs to the Lord * Write your petitions (requests) of the Lord; this is great to look back on and see what God has done.
DOWNLOAD
THE VIDEO TEACHING CAN BE PURCHASED AT: EBM International
All proceeds of the video go to support missions.
IMAGE SOURCE: Adik86 [CC BY-SA 3.0 (https://creativecommons.org/licenses/by-sa/3.0)]