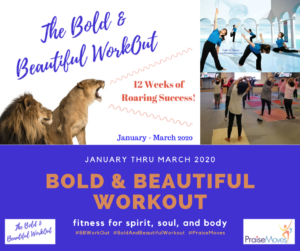 DON'T MISS THE BOLD & BEAUTIFUL WORKOUT WEBINAR
Tuesday 9 pm EST.
http://Praisemoves.com/BBWwebinar
This class is for you if…
You feel STUCK in a never-ending cycle of diets and plans that DON'T WORK
You feel uncomfortable about how you look and don't know how to discipline your body (the Temple of the Holy Spirit, according to 1 Corinthians 6:19).
You want to have control over the flesh, but it's SO HARD to do (and you're tired of hiding and being mad at yourself).
You wish there was a SIMPLE Bible-based way to start doing better and actually FEEL results the first day.
P.s. For details about Online PraiseMoves classes with Arletia Mayfield, visit https://Arletiamayfield.com